1st Virtual ACT Program Held
The "A"san Medical Center Interventional "C"ardiology "T"raining Program (hereinafter referred to as ACT Program) was successfully held online for the first time for two days on June 19th (Fri) and 20th (Sat) by attracting approximately 600 participants.
The ACT Program, jointly hosted by the CardioVascular Research Foundation (CVRF) and the department of cardiology at Asan Medical Center in Seoul, is a 4-day and 3-night offline education program for around 10 domestic and overseas cardiologists each month. This is a professional training course that participants can learn the latest treatment trends and know-how in the field of cardiology through live demonstrations and lectures.
Since the first event held in January 2009, it has been recognized for the quality of educational content and the excellence of the curriculum for a discussion process while watching a live demonstration of world-class cardiac surgeries in particular. In the following decade, it has been held more than 100 times and solidified its status as a representative cardiovascular interventional education program in the Asia-Pacific region by transferring the know-how of cardiovascular stent treatment to about 1,400 medical representatives in 37 countries including Singapore, China, Hong Kong, etc.
However, as training and seminars in hospitals were banned due to the global pandemic of COVID-19 which first began in last January and its prolongation, the ACT program that has been held in the hospital was also completely stopped. Nevertheless, in order to provide an opportunity for continuous education in the field of interventional procedures, a Virtual ACT Program was designed using a non-face-to-face platform while containing the core contents of offline education programs.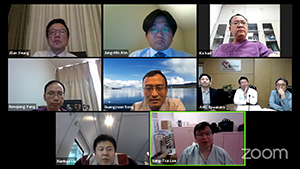 The first attempt was the 1st Virtual ACT Program - TAVR (Transcatheter Aortic Valve Replacement), which was held in cooperation with Fuwai Hospital in China and Asia Pacific Structural Heart Disease Club Limited (hereinafter referred to as AP-SHD). Two leaders of cardiovascular interventions in China and Korea, Fuwai Hospital and Asan Medical Center in Seoul, had cooperated to have in-depth discussions on the rapidly developing treatment of transcatheter aortic valve replacement (TAVR). The TAVR-themed ACT Program was broadcast live on the online conference platform ¡°ZOOM¡± for two days, and live-streamed on YouTube and China¡¯s own online channels for the convenience of participants around the world.
This program, sponsored by Edwards Lifesciences, focused on the detailed process of TAVR procedure using the Sapien 3 percutaneous heart valve, and problems and solutions during the procedure. In-depth lectures including "TAVR valve selection method using CT", "TAVR for bicuspid valve", "Echocardiography in TAVR", and "Reality of transapical TAVR using surgical technique" were also given, and the discussion to share the case of TAVR using Sapien 3 in China with a sense of realism was popular as a practical course of lectures.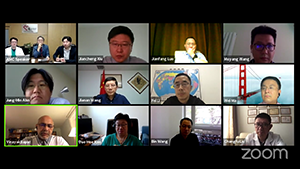 In addition, global TAVR experts including Dr. Seung-Jung Park and Dr. Duk-Woo Park (Asan Medical Center) from Korea, Dr. Yongjian Wu (Fuwai Hospital) from China, Dr. Alan C. Yeung (Stanford University School of Medicine) and Dr. Vinayak Bapat (Columbia University Medical Center) from the United States, and Dr. Jian (James) Ye (St. Paul's Hospital, University of British Columbia) from Canada participated in the discussion to talk about current situations and future prospects of TAVR procedures and share the know-how of each country.
Virtual ACT programs composed of various topics such as Left Main & Bifurcation PCI Intensive Course, Coronary Physiology & Intravascular Imaging Guided PCI, CTO, TAVR, etc. will continuously be held in cooperation with various East Asian countries. For more information, visit http://www.summitmd.com/html/cvrf/education_act.html.